Sandra Willems, sales manager at Landgoed de Olmenhorst
Sandra Willems is sales manager at the most beautiful orchard in the Netherlands: Landgoed de Olmenhorst. On this beautiful estate in Lisserbroek, you will find 31 hectares of organic apple and pear orchards, along with monumental buildings. Landgoed de Olmenhorst is a family business and has existed for more than 165 years. Sandra is part of the team and can proudly tell you about this special place in Haarlemmermeer. Learn more about this unique orchard and be inspired to visit the estate at any time of year.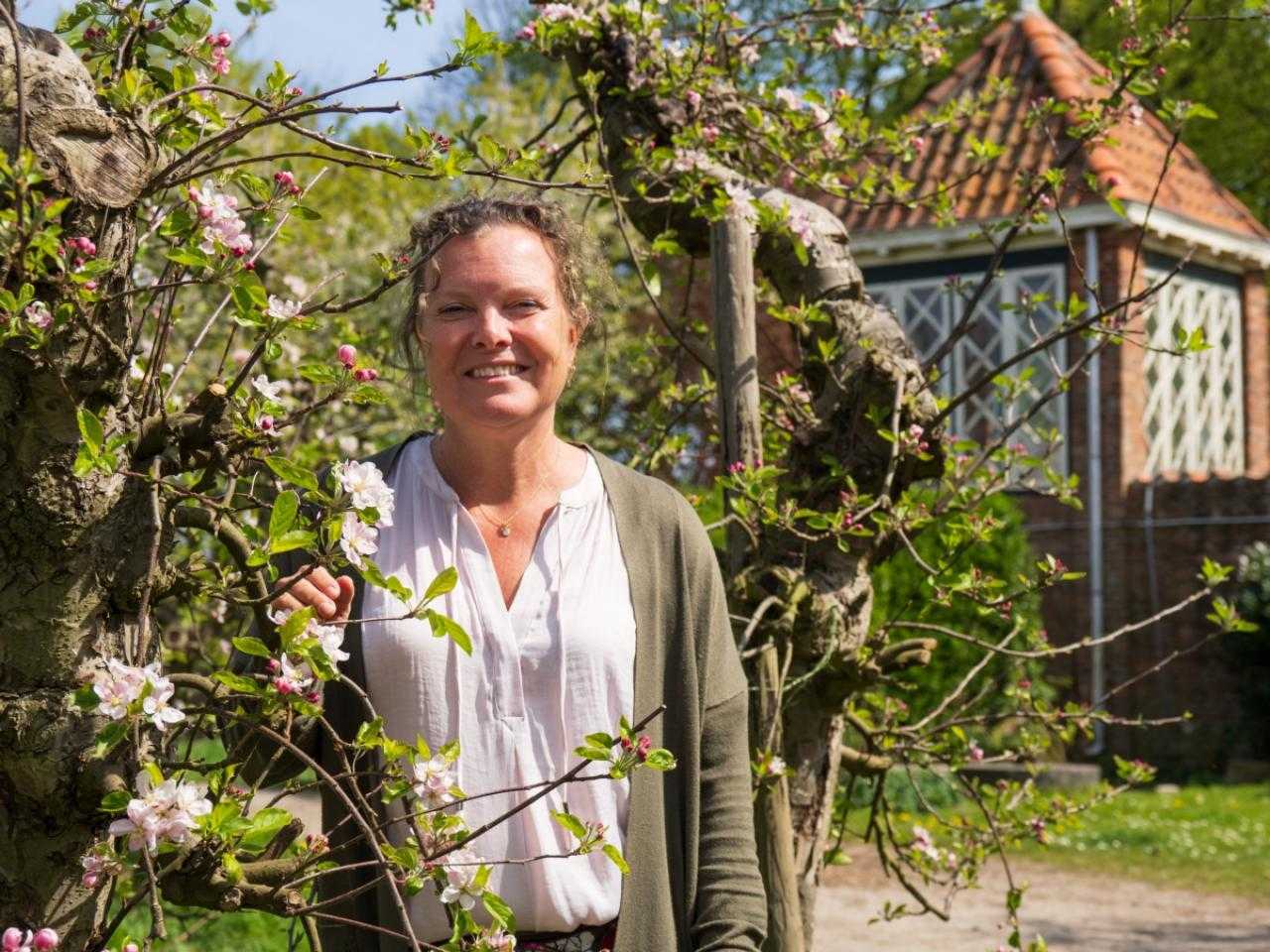 Sandra, what is your connection with Haarlemmermeer? 
I live and work in Haarlemmermeer. I have been working at Landgoed de Olmenhorst for 14 years now, since 2008. After I moved to Nieuw-Vennep, I really wanted to find work close to home, because of my children. 
I looked around to see what could be found around here in terms of catering. I soon arrived at Landgoed de Olmenhorst, which really appealed to me. I sent in an open application and was lucky: they were looking for sales staff at that time. So it turned out to be the perfect timing! 
We like to think of ourselves as the large backyard of Haarlemmermeer.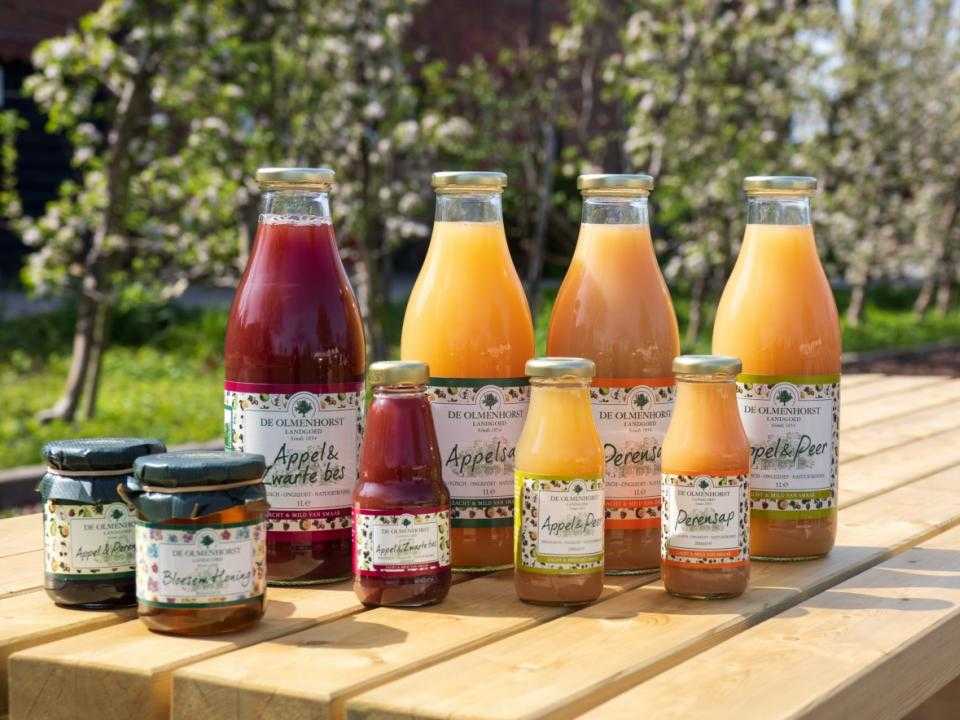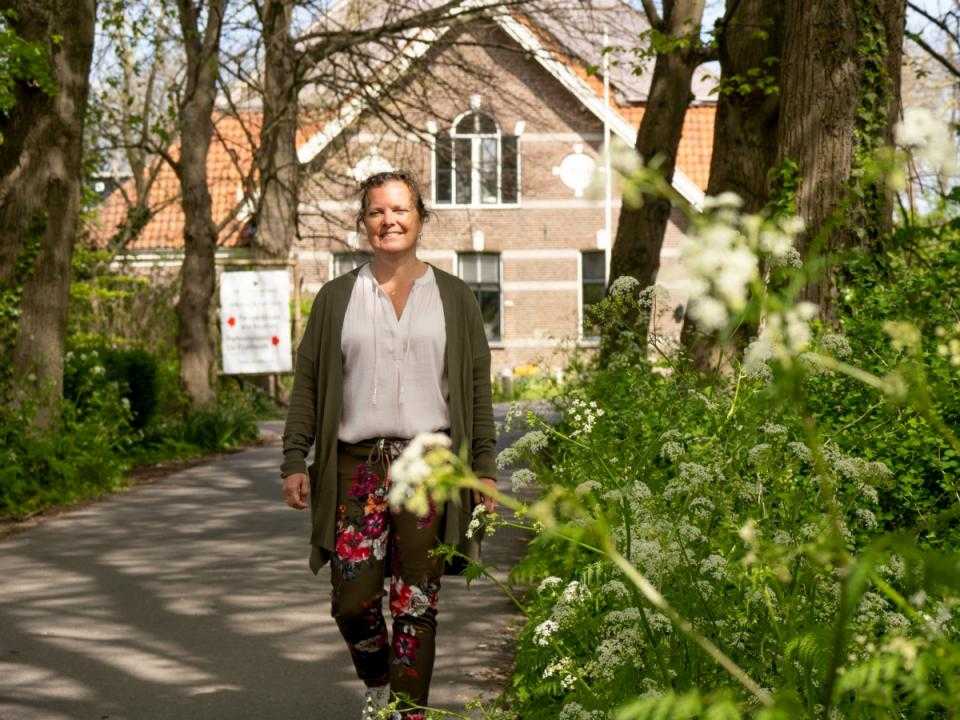 When can people visit Landgoed de Olmenhorst and what should they expect? 
The estate is open to the public all year round. During the self-picking period in September and October, apple and pear trees can be harvested. For children and for the entire family, Landgoed de Olmenhorst offers a lot of fun.   
Through our special adoption trees, everyone can enjoy the estate. You can adopt a tree with us for a year. In the fall you can harvest your own tree! In addition to this, you're allowed to visit the tree all year round. That way you can enjoy the tree's flowering and witness the fruit's growth. 
We see ourselves as the large backyard of Haarlemmermeer. The estate is open from sunrise to sunset and is free for everyone. The peace and natural beauty of our area attract many day trippers. 
  
Can you tell us something about the other entrepreneurs located on the estate? 
De Olmenhorst has always been a mixed agricultural company. As a result, there are several farms on the estate. In these buildings you will find studios, shops, and the architectural firm FARO. 
You can participate in a walk-in workshop in the studios. Among the skills you'll learn here is how to make a soapstone art piece. We also have several workshops for the little ones and a special candle-making workshop. 
I think it's great that even in difficult times, such as during the corona pandemic, our persevering team managed to get through it.
What is on schedule for the coming period at De Olmenhorst? 
We regularly organize special dinners for which people can register. During a dinner you can meet our top chefs and enjoy delicious food in a unique location, such as in the Fruitloods or in Boshuis. 
The estate is also a popular location for business and private meetings. There will soon be a flea market and a cozy market at Pentecost. From April through October, the estate is a popular venue for weddings. We currently already have 45 weddings scheduled for this year. People enjoy the idea of getting married with their feet in the grass in the pear orchard. The entire wedding can be celebrated at our location, from the wedding ceremony and dinner to the party. 
  
What makes your company unique in Haarlemmermeer? 
The history and monumental buildings, the relatively large orchard, and the accessibility to the public make this place unique. You won't find this combination anywhere in the middle of the bustling Randstad. 
We also grow organically here, which is unique. Not all orchards in the Netherlands do that. Several of our products, such as juices, are available nationwide, which makes us very proud. By buying our products or adopting an apple tree, people help us preserve this special place. 
  
As a resident and professional in Haarlemmermeer, what are you most proud of? 
Personally, I really like that this is a safe environment. I would recommend Haarlemmermeer to anyone looking for a centrally located and pleasant place to raise a family. 
On a business level, I'm very proud of the estate. I've been here for 14 years for a reason! I am proud that even in difficult times, such as during the corona pandemic, we did not give up. Our core team consists of about ten people and many on-call workers. We can depend on each other and we don't ever think about leaving this place. 
I invite everyone to come visit our beautiful estate. There is a list of special activities on our website. Or register immediately for a pleasant evening during one of our special dinners!